The first step to learn a language efficiently is to know what level you are at and what level you want to reach. This placement test is designed to give students and teachers of Portuguese a quick way to assess a student's approximate level of knowledge of grammar and use of Portuguese. At the end of the test, you will see the test result and receive a percentage. For a more accurate assessment of your Portuguese language skills, your listening, speaking and writing skills would also have to be evaluated.
This test consists of 30 questions and lasts approximately 10 minutes.
Note: This is not an official proficiency exam, the test scores and levels are approximate. Your score on this test cannot be used as a formal language qualification exam. The Certificado de Proficiência em Língua Portuguesa para Estrangeiros (Celpe-Bras) is the official Brazilian exam to certify proficiency in Portuguese as a foreign language.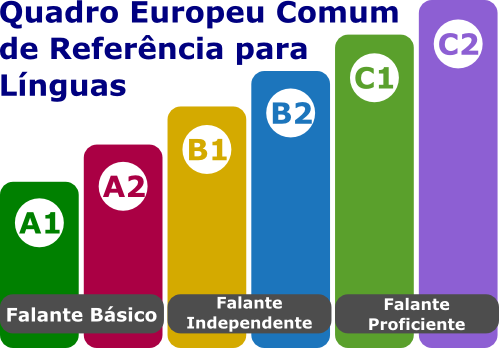 This placement test follows the Common European Framework of Reference for Languages (CEFR) as a parameter. To better understand how the CEFR works, click here.
Equivalence of levels between the Common European Framework and Celpe-Bras:
| | |
| --- | --- |
| Celpe-Bras | CEFR |
| No certification: score from 0.0 to 1.99 | A |
| Intermediate: score from 2.0 to 2.75 | B1 |
| Upper intermediate: score from 2.76 to 3.50 | B2 |
| Advanced: score from 3.51 to 4.25 | C1 |
| Upper advanced: score from 4.26 to 5.0 | C2 |
Did you like the tips? If you are thinking of starting a Portuguese course, be sure to take your placement test. After all, it will indicate your knowledge of the language and ensure that you are directed to a more appropriate level. Do you want to learn Portuguese? Click here.